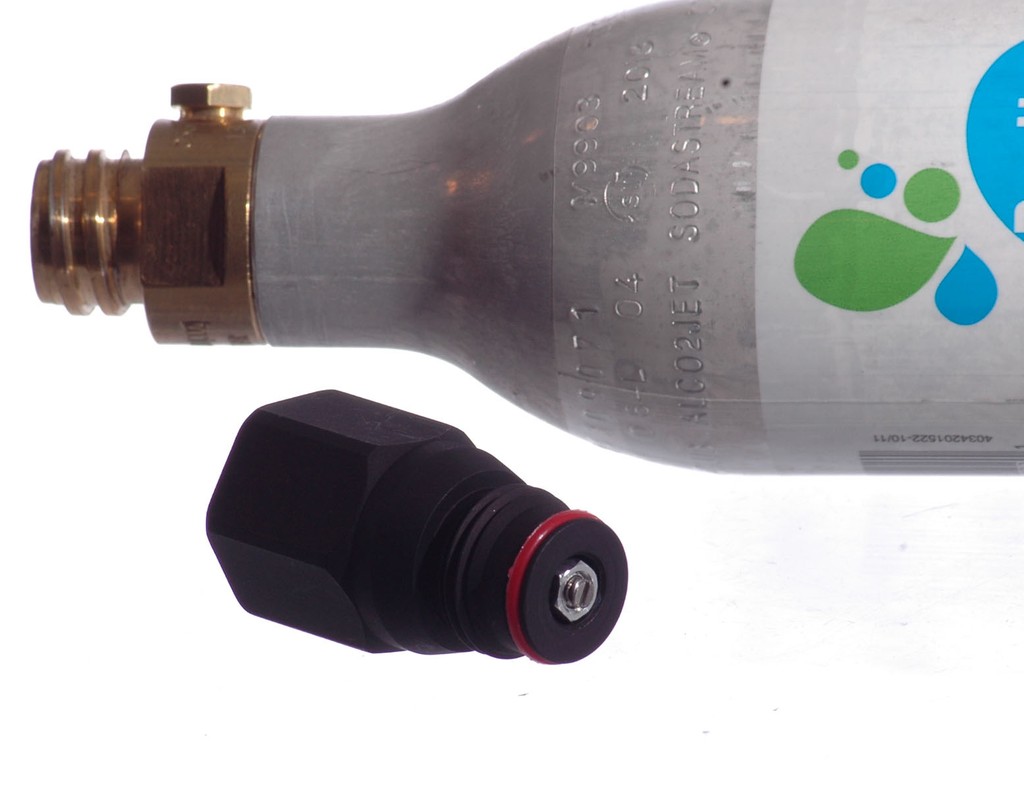 Palmer's Pursuit Shop
Carbonator/Charger Refill Adapter .825x14 NGO (male paintball) threads to Female W21.8 (Soda Maker)
---
Made in the USA.
Adjustable Pin
All metal construction.
Aircraft grade aluminum
Stainless internals
Anodized Black
Non commercial use only!
Palmers is known for high quality performance parts for over 25 years.
Includes extra set of Seals.
 Use your Soda Maker CO2 Bottle to power your Paintball Marker. Converts any paintball air source adapter 0.824-14 NGO (ASA or ASR) to use Course Thread W21.8 Soda Maker Bottles. This adapter will allow the use of Paintball CO2 and Coarse Thread W21.8 Soda Maker Bottles to any  Female .825x14 NGO threads.
Instructions.

Why pay for a Co2 exchange? Join many other happy customers that are saving hundreds of dollars every year by refilling their own Soda Stream Co2 replacement cartridges. Some are even turning a profit by offering a refill service in your/their local area. We manufacture the parts in house to insure the highest quality parts. This all guarantees that our staff is quite knowledgeable about the kit and can provide the required support if needed. This soda co2 refill kit can pay for itself in under a year!
Food or Beverage Grade CO2? You will find that most suppliers of CO2 just give beverage grade to everyone. Welders, Paintball Shops and Your local quickie mart all get their CO2 from the same place. It's just easier to give everyone top quality gas, You don't have to worry about any mixed gases since everyone gets beverage grade and they only have to keep one large tank on site. We can't vouch for your local supplier, but in the Sacramento area, we are all supplied beverage grade CO2 no matter what you use it for. Lot number stickers are usually on non dip tube tanks, They wont put them on the dip tube tanks since they think you are using it for industrial use. Just ask your supplier if they have beverage grade and the lot number. If they don't know,, ask who supplies it to them and if they only carry beverage grade. Most large suppliers will not mess with the little tanks or have the equipment to do so.
The difference between the grades of CO2 is mostly what type of testing it goes through. Ranked in order
#1 Beverage (Most testing, cleanest)
#2 Medical (self explanatory)
#3 Food (normally not for human consumption)
#4 Industrial (very little testing, must be mostly pure for welding, lives depend on it. )
Pursuit Shop you hereby attest that you legally own the CO2 bottle to be used with Palmers Pursuit Shop Co2 adapters and your bottles are still within the use limit of the bottle (hydro-static testing is current).
Click the below image for a better view or to print.
Soda Stream Adapter disclaimer.
All product and company names are trademarks™ or registered® trademarks of their respective holders. Use of them does not imply any affiliation with or endorsement by them. The name SodaStream or Soda-Club are trademarked and owned by their respective owners. Palmers Pursuit Shop is not associated with Soda Stream or Soda-Club. Soda Stream or Soda-Club has not endorsed nor sponsored the Palmers Adapters in any manner, nor licensed any intellectual property for use in this product. To the fullest extent permitted by law and save as provided above, neither Palmers Pursuit Shop, nor any associated company shall be liable to you by reason of any representation, or any implied warranty, condition or other term, or any duty at common law, or under
the express terms of the contract, or in negligence (whether on the part of Palmers Pursuit Shop or any of its members, agents, directors, employees or otherwise) for any indirect special or consequential loss
or damage (including but not limited to loss of profit or loss of saving), costs, expenses or other claims for compensation whatsoever which arise out of or in connection with the use of this website, the supply of the products or their use or resale by you .Ordering from or using any products from Palmers Pursuit shop releases Palmers Pursuit Shop from any liability. Filling non owned (licensed) CO2 bottles may subject you to legal action. Similarly, other Trade Mark/Copyright owners may take criminal or civil action against you. In the event legal action is taken against you for your acts, illegal , improper use and/or omissions from using or ordering Palmers Pursuit Shop Products, you agree to indemnify and hold harmless Palmers Pursuit Shop and its subsidiaries, affiliates, related companies, employees, officers, directors and agents. By receiving any CO2 adapter by Palmers
Pursuit Shop you hereby attest that you legally own the CO2 bottle to be used with Palmers Pursuit Shop Co2 adapters and your bottles are still within the use limit of the bottle (hydro-static testing is current).
DESC
---
Share this Product
---
More from this collection